Space Jack Blackjack At Slotland Casino
Space Jack is a form of blackjack available at Slotland Casino. The
aim of the game is to beat the dealer's hand by either drawing cards
until your hand scores are higher than the dealer's without going over
21 or do not draw cards and have the dealer bust.
Space Jack
by streakgaming



You are dealt 3 hands and you can choose to bet $1, $2, $5, $10 or $20
per hand. After pressing the deal button, each of your hands and the dealer's
will receive 2 cards. All of your cards are dealt face up but the dealer's
first card only is dealt face up.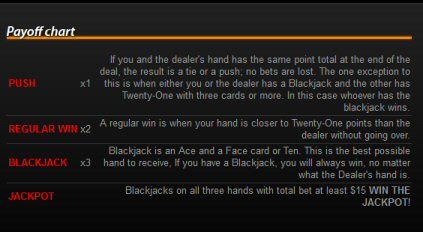 You will then need to decide whether to draw another card or stand, if
you stand the dealer will draw and the game ends. There is also a feature
called double down which can only be done with two card hands, before
other cards have been drawn. Doubling down will allow you to double
your bets and receive one additional card to all your hands. Space Jack
is connected to the Slotland progressive jackpot.

New players to Slotland Casino are eligible for a welcome bonus of
100% match up to $100 on your first deposit and then 50% match
bonuses up to $100 on your 2nd to 10th deposits.